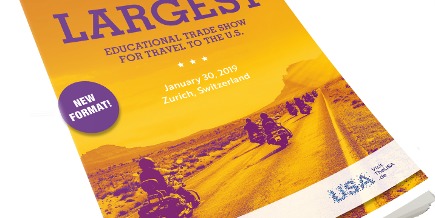 30.09.2018
New Format of Visit USA Seminars
The Visit USA Seminar 2019 is the only opportunity of the Swiss trade countrywide to personally get an update and to do networking. The reason being that virtually all promotional events organized by individual US states, cities etc. take place in Zürich. This makes an attendance impossible within the limited timeframe available. It explains at the same time why many are willing to travel 1-2 hours one way to participate in the annual Visit USA Seminar. The new event format was developed in close contact with the local trade and U.S. destinations. It will feature the following main changes at no additional cost:
- The focus will increase on education, personal contact and information
- The on-line USA Knowledge Test will start weeks before the seminar forcing visitiors to study the exhibitor's websites in order to answer the questions. Like in sports, it serves as a "warm-up period"! The test has to be completed in personal contact with the exhibitors at the event per se. The combind number of points (on-line text & seminar) will be used in selecting the participants for the prize raffle at the end of the day.
- Marketplace is a professionally built exhibit featuring all partners with individual booths. The newly designed booths will consist in particular of large pictures provided by each exhibitor. The Marketplace serves the purpose of meeting the attendees who have to complete the "Knowledge Test" (above) in personal contact.
- Workshops The fees have been lowered by 25 percent to CHF 1650.00 per workshop. The total number of workshops available is doubled to 12
- Hosted tables Each partner/exhibitor will be hosting a reserved table at lunchtime seating 8-10 visitors. Lunch will be served in two shifts providing hosts with exposure to two groups.
- Show act at lunchtime has been abolished to obtain additional time for personal discussions and meetings.
For further details please have a look at the enclosed 2019 exhibitors invitation which can be downloaded.
Exhibitor registration online at www.vusa.ch Dont miss the "Early bird" discount