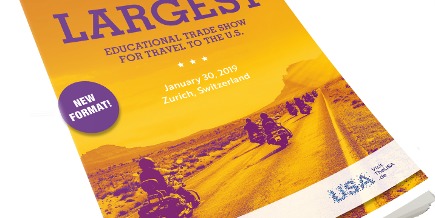 16.11.2019
Visit USA Seminar 2020 - February 5/6
Recent market reaearch confirm that competent clients counselling is the anwer to the more "anonymous"competition of online platforms. Personal service applies in particular for upper priced travel and when a certain amount is being spent
The Visit USA Seminar 2020 is the only opportunity for Swiss agents from around the country to personally get an update and to do networking. The event format is focussing on a close contact between attendees and U.S. destinations, resp. exhibitors. The program features the following highlights:
- each year a different individual U.S. city, state or region etc. called the "featured destination" which
obtains special exposure and serves as the event highlight
- attractive exhibitor booths with illuminated panels (relevant pictures) for
individual meetings (different sizes available)
- 12 workshops in separate rooms and small groups which are attended by all.
- rotation of visitors between workshops and meetings at the exhibit
- a one month online "USA Knowledge Test" preceeding the event serving as a
"warm-up". The test requires participants to consult the exhibitors or their websites to
provide the right anwers.
- visitors obtain points for doing the KnowledgeTest and a proactive participation in
the seminar. A group of the top performers is selected for a fam trip to the featured
destination.
- Extensive coverage by the printed and electronic media (bloggers, radio etc)
- The event per se is preceeded by the "Swiss Fondue Evening" a most popular
opportunity for socializing between exhibitors and the trade. (Evening preceeding the
seminar)
Please dont hestitate to contact us for further information and guidance.
Exhibitor registration online at www.vusa.ch Dont miss the "Early bird" discount.

Registrations are handled on a first come first served basis except for the featured destination once it has been selected and confirmed.